The Friends of 1800 is a grassroots, not-for-profit organization dedicated to preserving significant historical buildings, landmarks and the architectural heritage of San Francisco, with a special interest in the identification and recognition of issues and sites important to GLBT history and culture. Go here to read the Friends' Mission Statement and background information about the group.

Our Advocacy area links to preservation efforts by the Friends of 1800 and community groups involved with the New Mission Theater, Harding Theater, U.C. Extension, Sacred Heart Parish, the Fallon Building at 1800 Market St., and more.
UPDATED
Read more about the ongoing preservation efforts of San Francisco's legacy movie houses with updated info about theaters that have been closed or adaptively reused.
See also our updated tabular listings of closed San Francisco movie houses since 1978, with added links to Cinema Treasures.
The Friends of 1800 are advocating for the City of San Francisco to do a comprehensive Cultural Resource Survey of the entire city that will enhance the ability to preserve important buildings on their general historical and aesthetic merits. It will also explicitly take into account the contributions of LGBT peoples to the history and culture of San Francisco.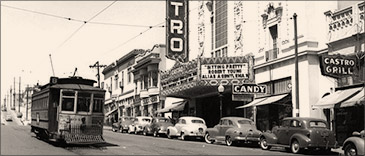 A Cultural Resource Survey is a basic tool that will lay the foundation for the preservation of sites important to LBGT history and culture, and will be an official recognition of the importance of LGBT history to the culture and history of San Francisco. → Read more about this project.
SAN FRANCISCO LANDMARKS

We have an extensive listing of officially designated San Francisco Landmarks, as well as San Francisco's Historic Districts and Structures of Merit.