The Friends of 1800 is a grassroots, not-for-profit organization dedicated to preserving significant historical buildings, landmarks and the architectural heritage of San Francisco, with a special interest in the identification and recognition of issues and sites important to GLBT history and culture. Go here to read the Friends' Mission Statement and background information about the group.
Our Advocacy area links to preservation efforts by the Friends of 1800 and community groups involved with the New Mission Theater, Harding Theater, U.C. Extension, Sacred Heart Parish, the Fallon Building at 1800 Market St., and more.
SAN FRANCISCO'S LEGACY MOVIE HOUSES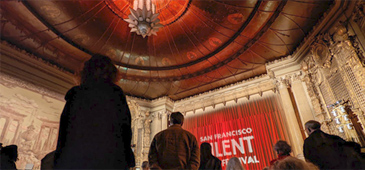 View recent recent coverage of moviehouses facing character-defining changes, such as the controversial changes proposed for the historic Castro Theatre.

Read more about the preservation efforts to save and restore San Francisco's legacy movie houses as was the case of the Harding Theater and The Alamo Drafthouse Cinema New Mission.
View tabular listings of closed San Francisco movie houses since 1978, with added links to the comprehensive site Cinema Treasures.
CULTURAL RESOURCE SURVEY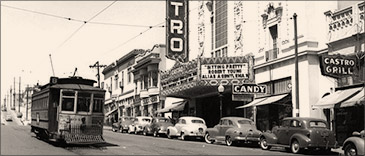 The Friends of 1800 have long advocated for the City of San Francisco to do a comprehensive Cultural Resource Survey of the entire city that will enhance the ability to preserve important buildings on their general historical and aesthetic merits. A Cultural Resource Survey is a basic tool that lays the foundation for the preservation of sites important to LBGT history and culture, and an official recognition of the importance of LGBT history to the culture and history of San Francisco. → More about this.
SAN FRANCISCO LANDMARKS

View an extensive listing of officially designated San Francisco Landmarks, as well as San Francisco's Historic Districts and Structures of Merit.
TOM MAYER 1953-2015
Tom Mayer, a founding member of the Friends of 1800, former Roxie Cinema partner, supporter of Independent Film, LGBT and San Francisco neighborhood grass-roots activist, passed away July 22, 2015.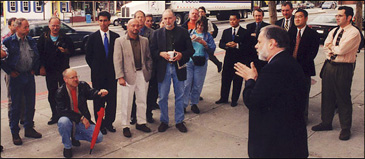 Tom played a critical role in saving and landmarking the historic Fallon Building at 1800 Market St. that had been targeted for demolition. He had the foresight to extend the group's outreach with an online presence in 1998, as well as network with both local and national organizations. Tom Mayer's passion and energy will live on in the hearts and minds of all those he inspired.
"Tom Mayer approached me while I was on the National Trust for Historic Preservation's San Francisco Regional Office staff. He told me about the pending demolition of the Fallon Building under consideration by the LGBT Community Center of San Francisco Board of Directors. Tom was quite adamant about the National Trust's involvement. He understood broader issues; he also knew the political battlefield and conflicts surrounding the proposed project. Tom encouraged me to participate in Friends of 1800 meetings and to become involved in the effort. Mr. Meyer was bright, outspoken and very passionate about the cause."
—Gerry Takano, former FO1800 Board President
Over the years Tom Mayer regularly contributed to San Francisco print and online publications in addition to Wikipedia. His final articles are featured at CineSourceMagazine and Hoodline, covering the 2015 San Francisco Jewish Film Festival.

SEE ALSO Journalist Jonathan Farrell's moving op-ed about Tom from September 10, 2015 on DigitalJournal.com