The Friends of 1800 supported the landmark nomination for the Richard P. Doolan/ Norman T. Larson residence and storefronts at 557 Ashbury Street. The following is a letter written to Aaron Peskin, President of the San Francisco Board of Supervisors.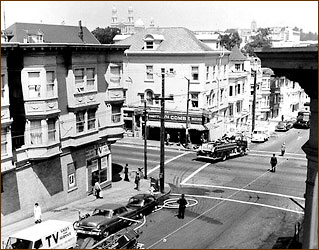 Dear Mr. Peskin and Members of the Board of Supervisors:
The Friends of 1800, a local GLBT preservation advocacy group, that grew out of the landmark designation of the Fallon Building at Market Street and Octavia Boulevard, has remained active in a number of preservation issues in recent years. One of the preservation issues we have followed with interest and strongly support is the proposed designation of the Richard P. Doolan/Norman T. Larson Residence and Storefronts located at 557 Ashbury Street/1500-1512 Haight Street as City Landmark No. 253.
The Friends of 1800 Board voted unanimously to support both the interior and exterior designation of this important building at its regular meeting on April 3, 2006. We commend the owner for his foresight to protect and preserve this highly visible landmark located on the prominent northwest corner of Haight and Ashbury Streets, and we understand that the site is being designated under the local and state criterion for its architectural, as well as its historic significance.
We appreciate the role that the Board of Supervisors has in the landmark designation process and trust that you will move forward in a timely fashion to approve this extensive landmark designation report prepared by Architectural Historian and City Planner, Vincent Marsh. Norman Larson, the owner of the property, has requested the designation of the interior and exterior of this significant Haight Ashbury property, as provided for by the provisions of Article 10 of the City Planning Code. Mr. Larson and Mr. Marsh have worked diligently for over a year to prepare this nomination and satisfy the requirements of this complex designation process to be able to seek the approval of the Board of Supervisors for this rare owner initiated landmark.
Sincerely,
Mark Paez, Chair
Friends of 1800