Paul Quinn's 11/21/08 letter to the Friends of 1800, following the Planning Commission's decision to uphold the Friends of 1800's Appeal and require an EIR for the Harding Theater.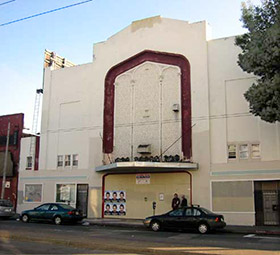 Thank you so much, and congratulations on bringing some sanity to our lives.
Losing so many local theatres has been painful — without them, we lose a core resource for renewing social life and revivifying the nabes.
I was living half a block away when the police broke up the Straight. All these years later, when I walk the Haight something seems missing. Imagine the difference if that street had, not just shops and bistros but — imagine the Castro Theatre, smaller, smack in the middle. Whatever life the Straight had today would refocus the whole Haight and fundamentally change the city's dynamic.
I hope getting an EIR is another step toward retaining the Harding. The reinvigoration of Divisadero helps. The housing crisis helps. Your energies have brought this dream to the realm of the possible.
So, onward! Million dollar domestic restorations don't make a city come alive, but a revived Harding might be the focus for The Jazzadero's revival. Who knows what our friends or children might do in a theatre like that!
With all best,
Paul Quinn