September 10, 2004: Parishioner, Robert Pritchard, makes an urgent plea to the community to stave off the Archdiocese's decision on September 8 to close Sacred Heart Parish.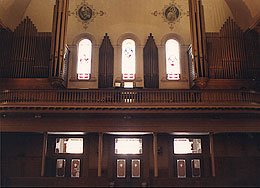 Sacred Heart Parish needs your help! Our church has been an anchor in the Western Addition since 1885. It is the only Catholic Parish remaining in the Western Addition, and has been the rock of the predominantly African American Catholic community.
On Wednesday, September 8, 2004, it was decreed in a meeting that Sacred Heart will cease to exist at the end of December 2004. The doors of the sanctuary will be closed with hopes that the parisionhers will all scatter.
We feel we have never had fair representation on trying to save our historic and architecturally important visual anchor that oversees the Fillmore Area.
To allow this edifice, one of only two churches in this style in California, to be destroyed will be a travesty and disgrace on San Francisco's already tarnished list of buildings allowed to be destroyed in our history.
We need a miracle to retrofit our church. We feel this needs to be brought to the attention of the public before it is forever too late.
Sacred Heart serves a community of diverse ethnicity and orientation. We do not wish to lose our eclectic identity simply for not fitting into the agendas of surrounding Parishes.